Addiction can happen to anyone regardless of personal beliefs or background. Nonetheless, studies show that some people are prone to drug addiction. There are a wide variety of factors that contribute to this disease such as genetics, medical history and age. Even different types of drugs and the methods of using them play a significant role. Among all of these different components, however, what most often plays the biggest role is having a personality risk for addiction.
Let's take a look at some of the personality traits and other health risk factors that are critical in understanding addiction.  
There's no one size fits all addictive personality
The idea of a generic addictive personality doesn't exist. More and more research is proving that there isn't one specific personality type that's at risk. In fact, some seemingly contradictory personality traits may lead people to become addicted to drugs or alcohol.
Popular culture portrays people who are social outcasts, criminals or suffering from personal problems are as those who most often abuse drugs. While this may be true in some cases, there are many people who society would paint as the perfect picture of mental health who are also addicts.
Key personality risks for addictions
With that said, there are certain traits and behaviors in people are recognized for having a higher chance of developing addictions to substances. People with these traits are also less likely to use these substances in moderation.
Some of the key signs are people with high levels of sensation seeking personality traits including:
obsessive and compulsive

risk-taking

apathetic

low levels of self-control

disconnected

overly cautious

related to people with addiction

suffering from other mental health disorders
---
Take your first step towards recovery.
---
Once again though, note how contradictory many of these traits are. People who are cautious and people who are adventurous seem to be on completely different ends of the spectrum. However, both sides are indicative of people who may have self-control issues.
Let's examine some of these personality risks for addiction in more detail:
The risk taker
The thrill-seeker is one of the personality traits of people most likely to suffer from addiction. These people often indulge in impulsive behavior and exhibit little control when experimenting with dangerous activities. This makes them more likely to use drugs.
New research shows this has to do with levels of dopamine in the brain. People with high dopamine levels have a lower sensitivity to it. This means they need more intense experiences to feel the pleasure that someone with lower levels would need to feel pleasure. This is directly related to the way someone has a higher likelihood of experimenting and often becoming addicted to drugs.
The cautious person
People who have difficulty with social relationships and may regard themselves as more cautious are likewise susceptible to addiction. Many of these people may concurrently suffer from other conditions such as depression and anxiety.
They may then turn to self-medication as a way to manage feelings like loneliness and disconnection. This can become cyclical with a person needing these substances to feel good on a daily basis leading to tolerance and later addiction.
The obsessive-compulsive
People who struggle with obsessive-compulsive personality disorder are also susceptible to addiction. In this case, it's the opposite of individuals who have a lack of self-control. Instead, when people overly manage their impulses they may end using substances as a symptom of this behavior.
Addiction can be the result of a compulsion to use a substance rather than taking a risk and trying something new. For this reason, people with intense focus and habits have a high risk of addiction.
Genetic predisposition
Studies have shown that people related to individuals suffering from addiction are at higher risk themselves of drug abuse. Scientists have discovered there are parts of the genome that have been directly connected to certain addictions. In the future, scientists may be able to use this information to identify the chances of a person developing an addiction.
With that said, genetics don't automatically determine if someone will develop addiction. Environmental factors also play a substantial role in increasing the risk of drug abuse. For now, the most important lesson to draw is that people who have relatives suffering from addiction need to be extra careful since they are at higher risk of substance abuse.
How to help someone with a personality risk for addiction
It's essential for all of us to be able to identify triggers and parts of our personalities that may lead to developing health issues and substance abuse problems. One of the best ways to do this is through different kinds of behavioral therapies. This type of care can help us acquire self-control skills, a key factor in preventing addictions from developing. 
If you are battling with addiction, treatment programs can also incorporate these therapies along with addiction medication. This route will can not only help you stop using substances but also help you maintain your sobriety and gain control over traits linked to addiction.
We can help you
At The Blackberry Center, you will have the opportunity to begin the journey to lifelong recovery in our state-of-the-art facilities.
If you or one of your loved ones is struggling with addiction, we can help. We use a personalized approach to addiction treatment. Our focus is on treating the disease, not the symptoms. We put our patients first every step of the way.
Our substance abuse-only treatment programs include detox, residential and partial hospitalization program.  Our on-site rehab programs focus on a comprehensive recovery approach. They address your physical, mental and spiritual needs for optimal wellness. Your needs are unique. We treat you as such.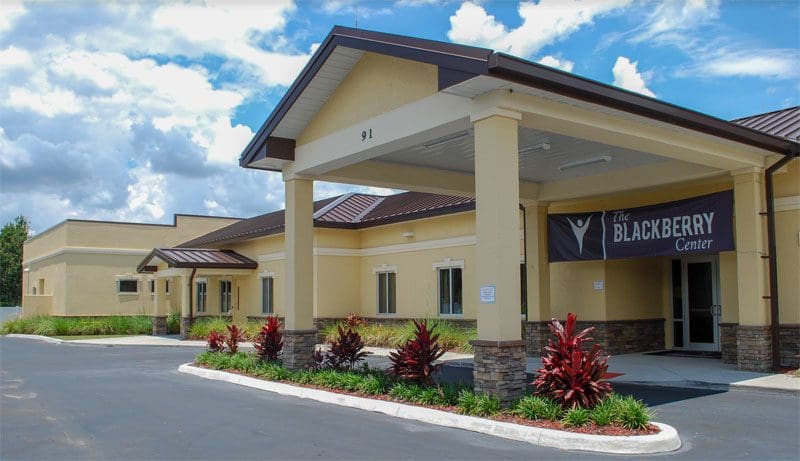 Reach out for help today
You may be struggling with long-term addiction. Or you may be fighting strong temptations. We can meet you where you are in your fight for sobriety.
We welcome you to our treatment center. From support groups to individual therapy treatment options, we are here to fight the battle with you.
Reach out to us online today. You can also call us at 888-512-9802