Many addiction treatment programs simply remove the drugs or alcohol from the environment, but don't take the time to heal your mind, which is what took you down the path of addiction in the first place. Our Christ-centered program is based on the idea that a relationship with God can greatly benefit your recovery success. Together, we create an environment where you can build your relationship with God while working a clinical treatment plan that addresses mental health issues and addiction. If you're tired of asking yourself, "How do I find Christian counseling near me?" then you've found the right place.
Our program uses a non-denominational approach to treatment. It is an integration of behavioral counseling, medical care, and a faith-based relationship with God. In our Get Christian Recovery Program, you'll work with Christian counselors to receive an evidence-based, Christian perspective on your mental health and addiction issues.
Who Does Our Christian Counseling Help?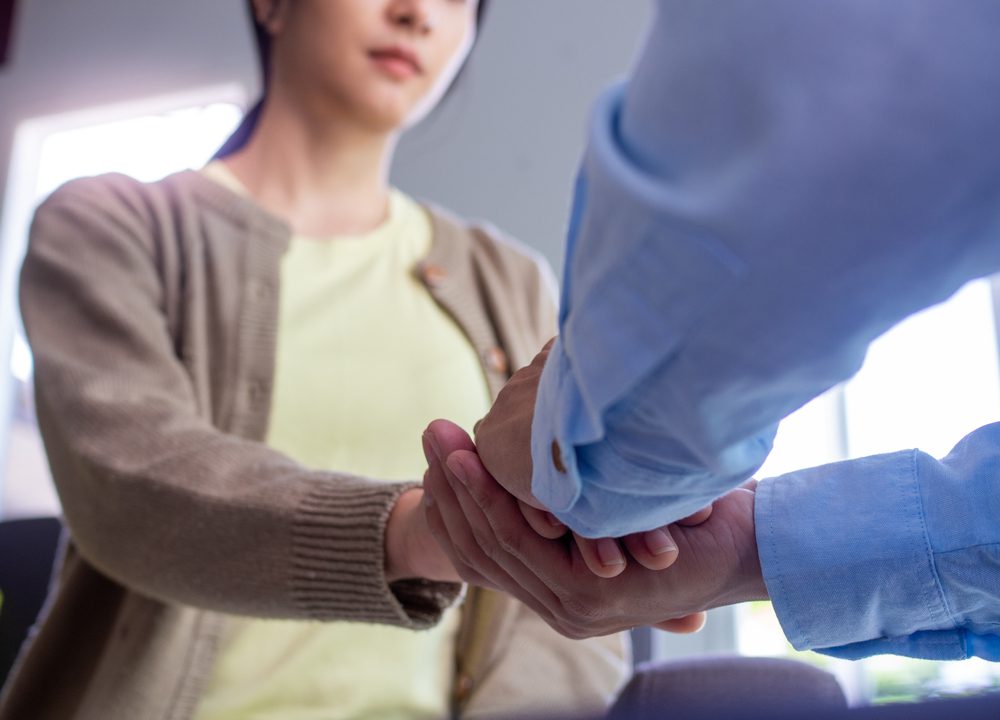 This program is beneficial for anyone who is open to having a relationship with God. At The Blackberry Center, we will help you foster a meaningful relationship with God. This relationship, partnered with an individualized clinical treatment plan and family recovery support, will provide you with a strong foundation for long-term success.
Our program is non-denominational, and we welcome all Christian denominations, as well as people with no faith at all. All that we require is that you are seeking to connect spirituality and find recovery. We believe that in combining the spiritual component with other medical and clinical programming, including education, clinical groups, relapse prevention, and individual clinical sessions, as well as the neurosciences.
What Can I Expect at Christian Counseling Near Me?
You can expect to be met exactly where you are in your spiritual journey. Our Christian counselors will never pressure you. Instead, they will work with you to give you the healing tools that will serve you throughout lifelong recovery. At our treatment center in the Orlando, FL area, we encourage clients to have a deeper understanding of God's forgiveness, mercy, peace and love. We provide spiritual support, guidance, suggestions, and recommendations as we see fit, based on your individual needs.
The environment at our addiction treatment center is non-judgmental in nature. We allow God's word to come into our lives, and connect it with Celebrate Recovery's 12-step program. This will help you connect with God and use that connection to work through all 12 steps of healing.
Who Will Help Me During Christian Recovery?
---
Take your first step towards recovery.
---
Our staff is dedicated to helping our clients feel better, and all team members are trained to have a client-centered approach to recovery. Upon arriving at the center, you will be greeted by compassionate care staff who will help you develop a personalized treatment plan. Additionally, we have a full-time program director, Christian-based counselors, and support staff. Our staff members will provide individual, Christian-based counseling sessions, groups sessions, and individualized support.
Christian Programming:
There are several components that make up our Christian program, including:
Individual Biblical counseling

Daily devotional reading series

Bible studies connecting God's word with the client's needs

Bible-based recovery groups

Non-denominational church services

12 step meetings incorporating God's word
All of these treatment options will come together to help you heal from your mental illness and addiction issues. No matter what mental health and addiction struggles you're facing, our Christian counselors will be right here to help with God's word and clinical treatments.
Would you like to learn more about Christian counseling in the Orlando, FL area? You can reach our admissions specialists at 1-844-232-6151, or you can fill out our confidential contact form. Whatever questions you have about our faith-based rehabilitation, our team will have answers.