POST-TRAUMATIC STRESS DISORDER
Post-Traumatic Stress Disorder (PTSD) is a mental health condition that is caused by frightening or dangerous events. After the event, the sufferer usually experiences many uncomfortable symptoms, and may act uncharacteristically. Some of the most common causes of PTSD include:
The death of a loved one
Military combat
A car accident
Losing a baby
Serious health problems
Physical or sexual assault
A natural disaster
Typically, a person would be temporarily frightened, scared or shocked by a traumatizing experience. With time, they would eventually heal from the situation. But when this fight or flight response keeps recurring in response to old trauma, it is categorized as PTSD.
It's important to note that someone can develop PTSD just from witnessing an event or having a loved one who went through a traumatic experience. In cases like these, it's often harder for people to get help because they don't realize that they're dealing with a mental illness.
An estimated one in 11 people will be diagnosed with PTSD. These numbers are high due to the wide spectrum of events that can cause PTSD. And just like there are a variety of causes, there are even more symptoms of PTSD.
Signs and Symptoms of PTSD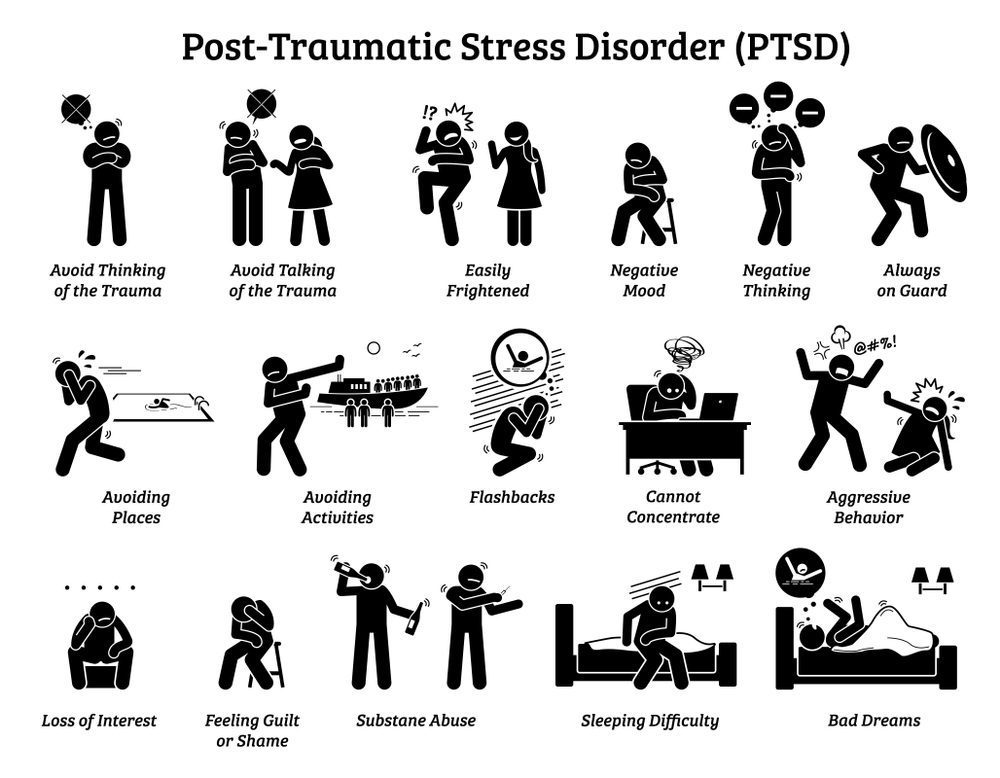 Symptoms of PTSD are often broken up into four categories: re-experiencing symptoms, avoidance symptoms, changes in physical and emotional reactions, and cognitive and mood symptoms. These symptoms do not always appear immediately after a traumatic experience, and they can occur weeks, months, or even years following traumatic events.
Re-Experiencing Symptoms
Re-experiencing symptoms are symptoms that the patient relives pertaining to the traumatic event. These are often described in movies and television shows as the sufferer "reliving" the traumatic event. These symptoms include:
Hallucinations
Recurrent memories of the event
Dreams or nightmares
Uncharacteristic reactions to something that reminds the individual of that traumatic experience
Contact us today to take your first step towards recovery.
Avoidance Symptoms
Avoidance symptoms occur when someone with PTSD deliberately avoids topics or activities that remind them of the traumatic event. In some cases, these behaviors may harm their personal relationships and lead to isolation. Common things for PTSD sufferers to avoid include:
Talking about the event
Thinking of the traumatic experience
Places, activities, or people that remind them of the inciting incident
Changes in Physical and Emotional Reactions
Patients are characterized by having:
Short tempers or jumpiness
Trouble sleeping
Paranoia
Difficulty focusing
High blood pressure or hyperventilation
Difficulty sleeping
Muscle tension
Nausea or diarrhea
Cognitive and mood symptoms
Negative outlook on life, yourself and others
Loss of hope for the future
Lapses in memory about the traumatic experience
Self-blame and guilt
Losing interest in previously enjoyable activities
Detachment from family members
For a PTSD diagnosis, a person must experience one or more re-experiencing symptoms and one or more avoidance symptoms. Also, they will need to display two or more changes in physical and emotional reactions and two or more cognitive and mood symptoms.
Risk and Resilience Factors
According to the National Institute of Mental Health, depression, substance abuse, and anxiety disorders often accompany post-traumatic stress disorder. Additionally, there are risk factors that can increase the likelihood of experiencing symptoms of PTSD, such as:
Genetics
Childhood trauma
A history of

 

alcohol and drug abuse
No support system or social interaction following traumatic events
Experiencing prolonged trauma
High levels of stress in everyday life
Mental illness

 

in oneself or relatives
Careers that have a high risk of exposure to a traumatic event, for example, military servicemembers or first responders
Gender: women are more likely to experience

 

certain symptoms of PTSD
Having added

 

stressors, such as losing a job, following a traumatic experience
Resilience factors that reduce the risk of having PTSD following traumatic events include:
Having a support group
Having healthy personal relationships
Being able to control reactions related to fear and anger
Early intervention and PTS treatment, before it develops into a disorder
Having social and emotional support from an early age
Having positive coping mechanisms
Treatment for PTSD can help patients learn how to cope with these symptoms. Seeking the help of a mental health professional is one course of treatment a patient can choose.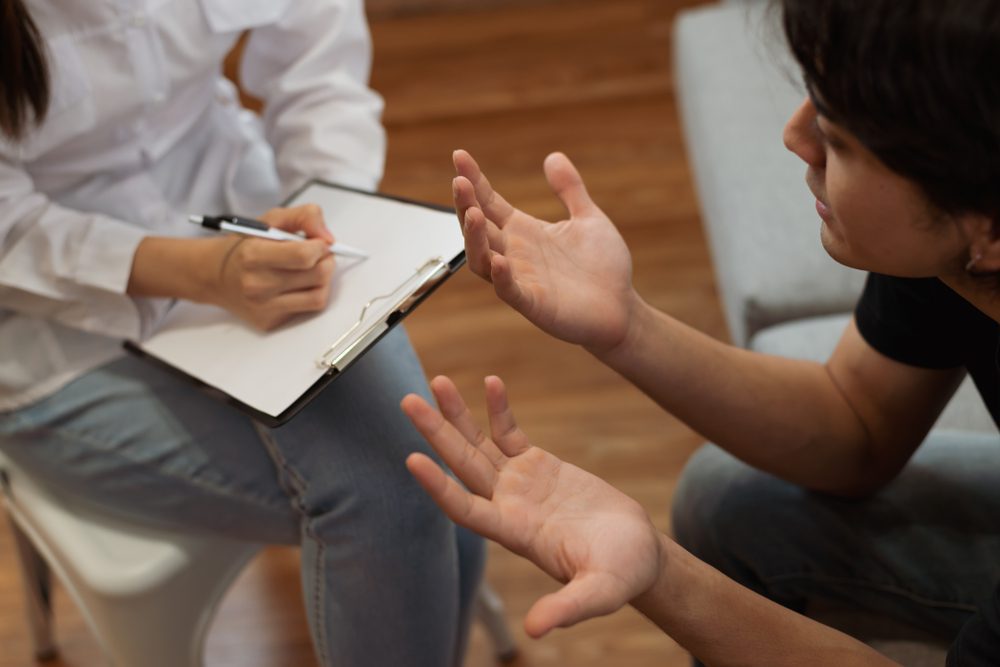 Types of therapies used to treat PTSD include:
Cognitive processing therapy: Helps patients with PTSD recognize the mental and behavioral patterns that stunt recovery. This treatment also helps patients gain new perspectives on their trauma.
Exposure therapy: Patients are slowly and gradually exposed to similar circumstances as those in their trauma. For example, a patient who almost drowned may slowly be re-introduced to water.
Eye movement desensitization and reprocessing (EMDR): Includes a therapy that stimulates eye movement and guided imagery to help patients process the emotions they experienced during trauma. This allows patients to move on following treatment.
Family therapy: Therapy with family members can help patients and their families learn how to recover from PTSD. This helps nurture and repair family ties during treatment.
Group therapy: Sharing thoughts and feelings with other PTSD patients can help patients gain a new perspective on recovery. This also offers a sense of belonging and reinforces to the patient that they are not the only one experiencing symptoms of post-traumatic stress.
Get Help with Your PTSD
If you or a loved one has gone through a traumatic event and are experiencing symptoms of post-traumatic stress disorder, know that there are treatment options available. Do you have questions about how we'll treat your PTSD? Fill out this contact form or call our admissions specialists at 1-888-512-9802.