DEPRESSION DUE TO CHRONIC PAIN

For people with chronic pain, mood disorders such as depression become more prevalent. In these cases, we believe treatment should address all physical, emotional, and behavioral symptoms. The information below will tell you what you need to know about The Blackberry Center's recovery options that are specifically crafted with regard to depression due to chronic pain.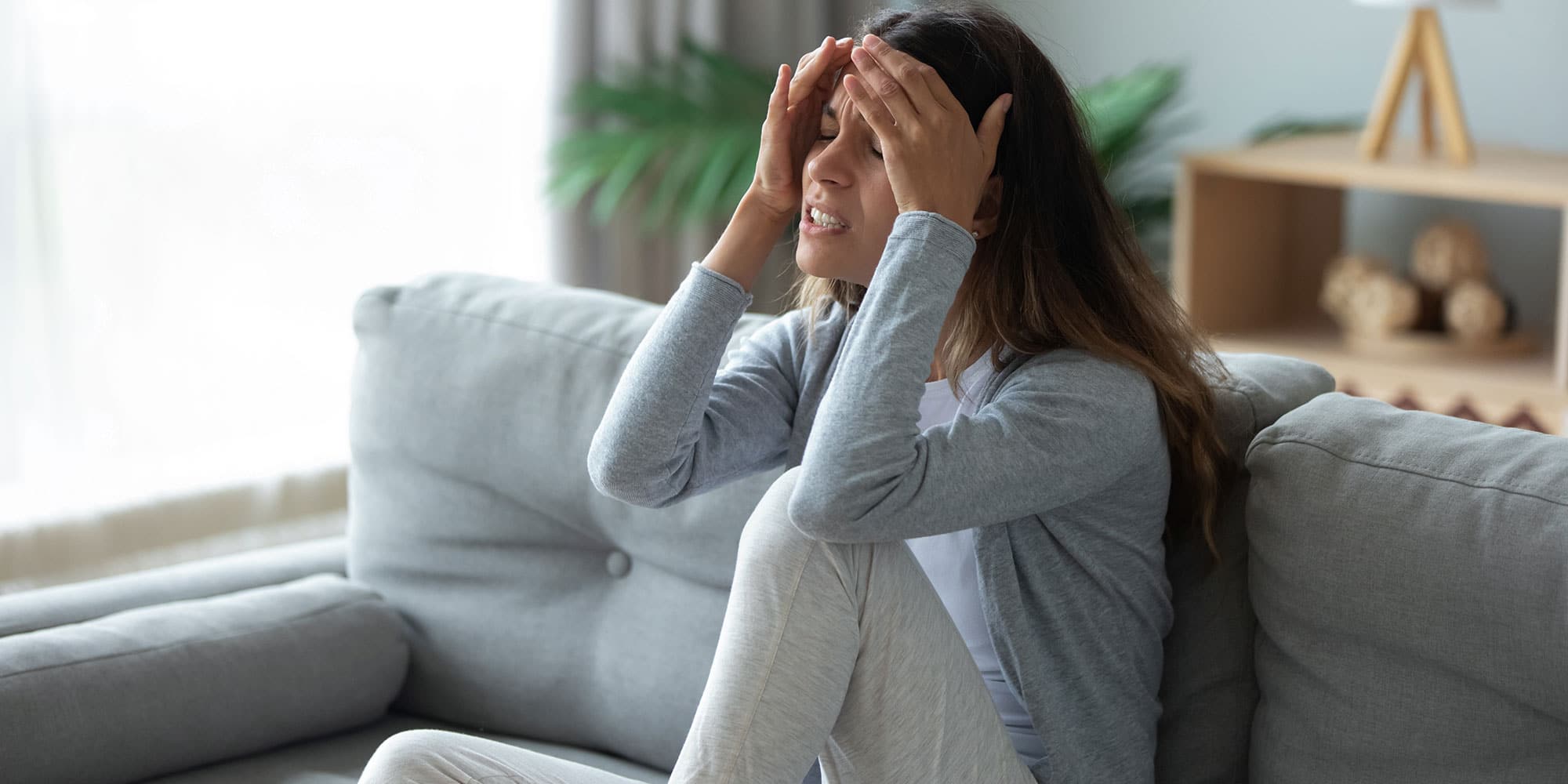 How Are Depression and Chronic Pain Connected?
Chronic pain describes a variety of long-lasting pain symptoms. Physical symptoms typically come to mind when chronic pain comes up. However, studies show that chronic pain has a direct connection with mental health struggles.
In fact, people with chronic pain are three times more likely to develop mood disorders and other mental illnesses, such as depression. The exact connection between chronic pain and depression is not precisely defined, but there are a number of reasons why this link exists.
One study showed that chronic pain patients experience physiological changes in their neurological development and nervous system that might cause mental health issues.
Additionally, some medications meant for pain management, such as antidepressants, can increase the likelihood and severity of depression. This is because the medication is prescribed with the pain symptoms in mind rather than both physical and mental health concerns.
Other medical professionals theorize that environmental, financial, and social factors also contribute to the development of depression with chronic pain. These include:
Inability to work full-time
Loss of independence
Sleep deprivation
Medical debt
With all of this in mind, we can see how depression is increasingly likely in patients with chronic pain. Thus, knowing the probability of mental health struggles, the symptoms of mood disorders, and treatment options for both physical symptoms and mental health will guide you toward a path of systematic recovery.
Contact us today to take your first step towards recovery.
What Does Depression Look Like with Chronic Pain?
While depression symptoms can vary greatly from patient to patient, there are classic warning signs to keep in mind, such as:
Long-lasting feelings of sadness, hopelessness, and pessimism
Loss of appetite or other noticeable changes to diet
Low self-esteem
Lack of interest in activities and hobbies
Drastic shifts in sleep patterns (i.e., sleeping too much or not at all)
Increased fatigue
Suicidal ideation
Any of these symptoms can indicate depression or other mood disorders. If you or a loved one experiences these intense feelings and thoughts of suicide, please seek help immediately with the Suicide Prevention Lifeline, local mental health professionals, or the assistance of 911.
Depression symptoms often manifest similarly to the side effects of chronic pain. Chronic pain, for example, can cause headaches, fatigue, changes in sleep patterns, and many other physical symptoms.
So how do you know if your symptoms are from chronic pain, depression, or both?
First, it is important to be aware of your body's typical levels of pain and fatigue. If there are changes or an increase in the severity of the symptoms, see a health care professional. They will be able to assess if these could be a result of the preexisting condition or if they are presenting as side effects of depression.
Secondly, do not disregard the warning signs of depression listed above, even if you do not have every symptom. Keep track of persistent feelings of sadness and anxiety. If these feelings intensify, do not lessen quickly, and impact your daily life, find treatment options that will address pain and symptoms of depression.
Lastly, take advantage of screening tools for depression to differentiate between your chronic pain and mood disorder symptoms.
If you believe that you or a loved one might be suffering from depression that is related to chronic pain or other mental illnesses, our online mental health screening could assist in leading you to the treatment you need.
Mind and Body Health – Chronic Pain & Depression
Your physician can guide you toward types of physical activity that would be right to address the chronic pain portion of your overall health. Sometimes, a physical therapist is necessary to provide specific exercises, stretches, and controlled movements that will help alleviate the chronic pain rather than exacerbate it.
When you are able to develop pain management skills, your mental health might simultaneously improve. Having less pain can actually reduce stress. Moreover, physical activity can even promote the production of beneficial endorphins that spread through your nervous system and entire body.
Know that physical activity is not one-size-fits all, especially for people with chronic pain. Accommodations, adaptations, and medical intervention might be necessary to create healthy, safe movement. These are all things that we take into account at The Blackberry Center. Work with your health care team to find the best pain management plan for your specific needs.
In some cases, traditional physical activity is not recommended or simply not achievable. Alternative paths for pain management include medication, mobility devices, aqua therapy, customized splints or braces, more intensive medical care, etc.
Unfortunately, people with chronic pain are often prescribed opioids and other prescription drugs that may worsen substance use disorders. This is why chronic pain and mental health treatments need to address both physical and emotional chronic pain effects.
Remember, It's Not "All in Your Head"
Physical activity and working with a physical therapist can be helpful to treat pain and symptoms of mood disorders. However, it is vital that the emotional and behavioral struggles are addressed as well. We believe that depression and other mood disorders must be treated alongside the chronic pain to ensure a comprehensive approach toward healing.
Too often, medical professionals fail to respect people with chronic pain. Instead, they insist that the pain is "all in their heads." Sadly, this makes it even harder for these people to get help.
We feel it is important to emphasize that seeking mental health treatment does not mean that your chronic pain is not real. Rather than dismiss you, treatment should encourage healing to the emotional side effects that go hand-in-hand with these physical pain symptoms.
Pain management, talk therapy, group activities, and close monitoring of pain medication or antidepressant medications are some of the programs we offer at The Blackberry Center. And all of these useful methods to address the complexities of chronic pain and depression.
It is also vital to find a care team who does not disregard your chronic pain. We recognize that your physical symptoms are valid and greatly impactful to your mental health. There are treatment options available to you that will look at your pain symptoms on a physical and emotional level.
We're Here to Help
The specially trained staff at The Blackberry Center in St. Cloud, Florida are here to answer your questions on depression and chronic pain, as well as other mood disorders and struggles. We will work with you to reduce stress, practice pain management skills, and better your overall mental health.
If you are ready to discuss treatment, please call our admissions staff at 888-512-9802. Or, if you're not quite prepared to take that step, submit your questions through our online form.