Oftentimes, depression and addiction go hand-in-hand. According to the World Health Organization (WHO), about 320 million people around the world struggle with varying degrees of depression. That's a lot of people struggling with a treatable disorder. Unfortunately, only 50% of these people across the world will seek treatment, bearing in mind differences across countries, cultures, socioeconomic classes, and other underlying factors.
In the United States alone, more than 17 million adults struggle with at least one episode of clinical depression every year. The Substance Abuse and Mental Health Services Administration (SAMHSA) estimates that although around 9 million adults struggle with depression and a substance abuse disorder together, only about 7 percent receive treatment for both. Untreated major depressive disorder can cause a lot of emotional distress in an individual, so much so that they may self-medicate, abusing drugs or alcohol to feel better. 
For those caught in this struggle, finding a comprehensive, effective treatment program that addresses the co-occurring disorder of both depression and substance abuse is crucial for a successful, long-term recovery. Some rehab programs are implementing specialized treatments that can treat both addiction and mental illness. These centers help you to implement a treatment plan and get your life back. 
Self-Medicating Is Not The Answer To Depression
Depression can certainly cause you to feel overwhelmed with life, but drinking or taking drugs is not the solution. Sure, it may give you a temporary feeling of relief from the emotional pain you're experiencing, but that feeling doesn't last. And, frequent use of these substances can turn into a bad habit or even an addiction. Self-medicating can also cause you to become even more depressed, instigating more intense negative thoughts and/or behaviors.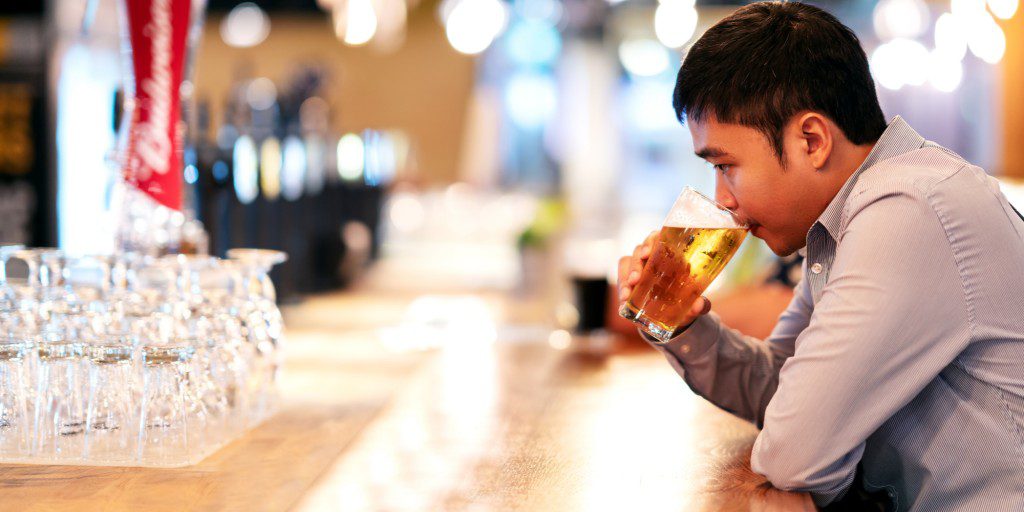 Fortunately, there is professional treatment available for both substance use disorders and clinical depression. Studies show that attending inpatient treatment decreases your chance of leaving treatment and relapsing.
Depression and Addiction (Substance Abuse)
Some people experience stronger and more emotional pain than others. Or, they may have faced difficult circumstances such as trauma, abuse, and neglect. Other people may have an imbalance in their brain chemistry. All of this can cause negative emotions and affect how you think and how you behave.
---
Take your first step towards recovery.
---
It's common among people to experience periods of the blues, but more serious types of depression exist. Think of depression as a spectrum of low moods, ranging from mild to severe. As time goes by, someone may turn to drinking or drugs in an attempt to feel better. This can begin a downward spiral of negative feelings and ultimately, alcohol or drug addiction. 
Using any substance, whether drug use or alcohol, significantly alters your mood, behavior, and brain function. This can make you feel drowsy and lethargic. Some drugs, including benzodiazepines, affect you the same way. Similarly, long-term cocaine abuse can inhibit your brain's ability to naturally create dopamine. Combine your feelings of depression with the use of substances, and you put yourself at an increased risk for addiction and self-harm, including suicide.
Abusing alcohol or drugs can cause changes in your brain.  These changes can certainly cause you to become depressed. The depression, in turn, can trigger you to reach for more alcohol or drugs to alleviate emotional pain. In addition, the more often you use substances, the more your body gets used to them. When this occurs, you may need larger amounts of the drug to feel the desired effect. This is known as tolerance.
As your tolerance for your drug of choice increases, your risk of falling into addiction increases too. The more you have, the more you need.
What Are The Symptoms Of Depression?
You may wonder if what you're struggling with is depression or just a case of the blues. Not everyone experiences depression the same way, but there are some commonalities. Common symptoms of depression include:
Feeling sad or "down" for weeks or months

Seeming increasingly negative emotionally

Feeling overly tired

Having a hard time getting out of bed every morning

Feeling like all hope is lost

Internal restlessness

Lack of energy

Not having much of an appetite

Overeating, trying to fill that inner void

Feeling like you have no worth

Isolating yourself

Not enjoying activities you used to enjoy

Finding it difficult to fall or stay asleep
Granted, feeling depressed every so often is normal. However, when these feelings persist for more than two or three weeks, you may be struggling with clinical depression. Seeking a mental health or addiction specialist can be helpful, as they can assess you to help determine the best course of treatment. 
The Need For Dual Diagnosis Treatment
If you're drinking or taking drugs, there is a possibility that this is masking any symptoms of depression. There's a correlation between drinking and depression, although it's not always clear if one causes the other. Falling into a depressed state can be a potential trigger for relapse, while abusing substances can trigger depression. Either way, an effective addiction recovery program will teach you to be on the lookout for depressive symptoms.
The good news is that there are effective approaches to treating both issues, including programs that involve both mental health and addiction recovery treatment. This is called dual-diagnosis treatment.
Treatment for Depression and Addiction
Whether it's for a family member, friend, or yourself, know that professional support and practical solutions are available to help you get your life back on track. Living with someone who is struggling with either depression, addiction, or both can be frustrating and disheartening. We understand. It can certainly be emotionally draining on the entire family.
Approaching your loved one with your concerns can be a bit scary, but is necessary for them to consider seeking treatment. As with any chronic illness, not treating the conditions will only make it worse. Therefore, approach them in a compassionate manner, letting them know the various routes to treatment. 
Reach Out For Depression and Addiction Help Today
You may be struggling with long-term addiction. Or you may be fighting strong temptations. You may also be apprehensive when it comes to the myths about rehab. We can meet you where you are in your fight for sobriety.
We welcome you to our treatment center. From support groups to individual therapy treatment options, we are here to fight the battle with you.
Reach out to us online today. You can also call us at 888-512-9802.
---
To ensure accuracy, this article was reviewed by Dr. Jenny Wells. Dr. Wells is a Forensic Psychologist with over 20 years experience, and she received her PhD in Forensic Psychology from the University of Birmingham.
Sources:
Quello, S. B., Brady, K. T., & Sonne, S. C. (2005). Mood disorders and substance use disorder: a complex comorbidity. Science & practice perspectives, 3(1), 13–21.
Kelly, T. M., & Daley, D. C. (2013). Integrated treatment of substance use and psychiatric disorders. Social work in public health, 28(3-4), 388–406. doi:10.1080/19371918.2013.774673
Holmstrand C, Bogren M, Mattisson C, et al.: Long-term suicide risk in no, one or more mental disorders: the Lundby Study 1947–1997. Acta Psychiat Scand 2015; 132:459–469.