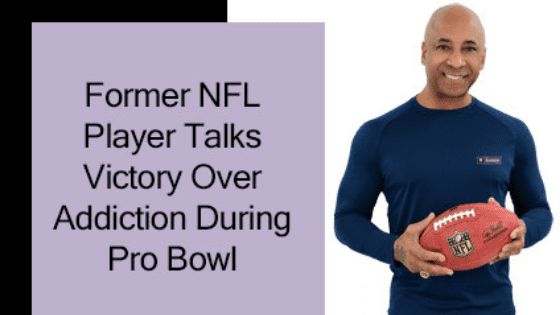 Addiction nearly took this former NFL wide receiver's life. Now, one of the "three amigos" is giving back.
ORLANDO, Fla. – January 17, 2019
Addiction is not a common topic at the Pro Bowl, albeit a relevant one. Retired NFL players are four times more likely to misuse prescription opioids. This year, one former Denver Broncos wide receiver is setting out to change this statistic through partnerships with The Blackberry Center and NFL Alumni during Pro Bowl week.
Vance Johnson, one of the Bronco's "three amigos" who ran in dimes from John Elway in the '80s, almost lost his life to depression and addiction. Today, he has five years of sobriety under his belt, and is working to help the next generation avoid the same downward spiral. 
"As a professional athlete, I endured a lot of physical and emotional stress throughout my career," Johnson said. "It probably started as an adolescent. This is why I find it so important to contribute my time with the NFL Alumni organization to promote their mission of caring for kids."
Vance Johnson Partners with NFL Alumni
Previously, Johnson's super power was always his quick feet. Eventually, depression and addiction caught up with him. Through hard work and perseverance, Johnson found victory within himself. Today, making an impact is perhaps his greatest accomplishment.
"I have partnered with NFL Alumni and The Blackberry Center to shed light on the addiction crisis that is becoming more and more prevalent since the end my football career," he said. "It is my mission, as a Christian and recovering addict, to help educate youth on the reality of addiction and that, if they are struggling, help is out there."
The Blackberry Center, located in St. Cloud, is just miles away from where the Pro Bowl will be held in Orlando this year. Johnson is proud to represent this hospital during Pro Bowl week as a resource for those who need it.
---
Take your first step towards recovery.
---
During Pro Bowl week, Johnson will volunteer with other NFL alumni at the Arnold Palmer Children's Hospital. Additionally, he will volunteer at the Madden Tournament, where junior and high school students can interact with former players. There will also be several other opportunities for fans to meet and greet the former NFL star.
NFL Alumni Events at Pro Bowl
NFL Alumni Mixer
Monday, January 21 at 6:00 pm
Citrus Club
Community Service Volunteer Day
Tuesday, January 22 at 10:30 am
Arnold Palmer Children's Hospital
Madden Tournament
Wednesday, January 23 at 5:00 pm
Florida Mall
The Exchange – Red Carpet Event
Thursday, January 24 at 7:00 pm
The Bronze Kingdom
Meet and Greet with Vance Johnson
Saturday, January 26 at 6 pm
Drive Shack
About The Blackberry Center
Built in 2017, The Blackberry Center in St. Cloud, Fla. is a behavioral health and addiction hospital dedicated to providing a safe place for people to reflect, rest and heal. The hospital is managed by Oglethorpe, Inc., a leading hospital management company in the United States. Today, Oglethorpe, Inc. oversees more than 1,200 employees at nine treatment centers throughout four states.
For more information, please visit theblackberrycenter.com