Holiday events can make it challenging to remain sober. From attending holiday parties to reminiscing about times past to feeling the pressure of stress and high expectations from family, concentrating on your addiction recovery can be difficult. It's OK to wonder how to face the holidays and sobriety.
You may see loved ones having a good time this holiday season with drugs and alcohol and feel your drug addiction trigged. If you find yourself in that situation, it's important to remember why you chose recovery from addiction and to have a strong recovery support system.
The power of recovery has changed your life. You made a conscious choice to abstain from prescription drug use/abuse, alcohol use/abuse and other drug abuse. You challenged yourself to overcome your substance abuse problems in your treatment program and succeeded! This includes maintaining your sobriety during the holidays. Be proud of that accomplishment.
Let's explore how you can maintain your recovery over the holidays:
Avoid temptations at gatherings
Holiday gatherings usually include both food and alcohol. Just the mere presence of alcohol can be a reminder of the sensations you experienced when you were consuming it regularly. It's crucial to your progress to realize ahead of time that these types of gatherings will always include alcohol.
So how can you avoid temptations?
Have a support system that you can rely on to distract you. Talk to your significant other, your sober friend from college or your sibling who will be at the party as well. Let them know how they can help you with other activities.
Recognize your limits and your weaknesses. Walk to the other side of the room. Take a walk outside. Don't engage in conversation with those who might trigger you.
Make plans for each day of the holiday season. This will help you avoid last minute situations that may make you uncomfortable.
If you feel being confronted with the temptation of alcohol at parties will be too strong, know that you don't have to attend.
Reach out to your treatment program if you have any questions.
Make a plan to manage holiday stress
Shopping for gifts for loved ones, making last minute travel plans and having a house full of loud loved ones can add to the stress of everyday life. Add in grocery shopping and cooking elaborate meals and you could have quite the burdensome situation on your hands. Take things one day at a time.
---
Take your first step towards recovery.
---
Making a plan to handle stressful situations is an important part of maintaining control of the situation and your sobriety. Controlling your own reaction to the stress might be all you can do.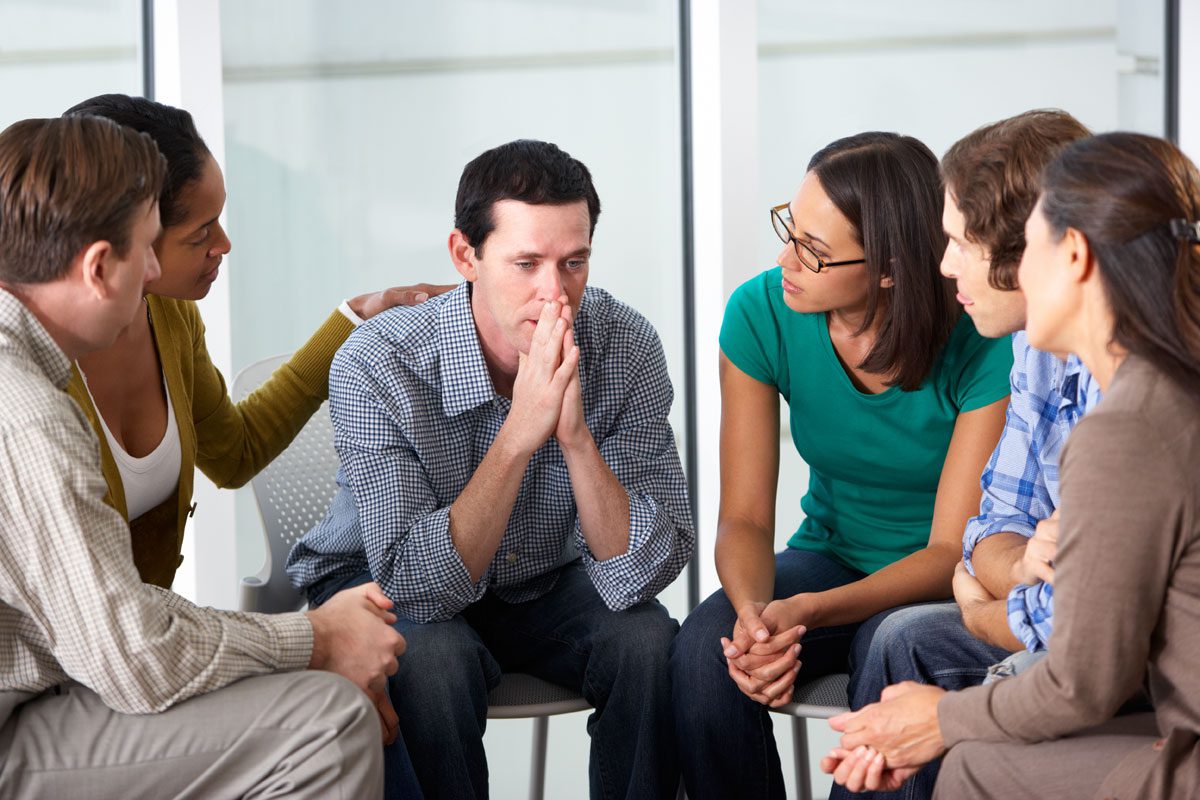 Prevent relapse with these stress management techniques:
Know where your local drug abuse and alcohol abuse support groups are. Make a list in your phone of when meetings are held.
Maintain a list of contact information for those in your support system and people in recovery you can lean on. Let them know before the holidays that you may need to lean on them more during periods of high stress.
Get plenty of exercise. This can help you destress and refocus your energy.
Create a new holiday tradition that celebrates your sobriety. Treat yourself to something nice or a new experience. Invite those who have supported you throughout your addiction treatment.
Prioritize self-care 
You'll likely find yourself exhausted over the holidays. Living the sober life provides you a level of freedom you may have never experienced, but it can also present challenges as you navigate your laundry list of holiday tasks. It's important to your sobriety and your overall health that you make time to practice self-care.
Try tips such as these to begin your self-care journey: 
Celebrate small sobriety victories. Did you avoid a place or a person today that has triggered your addiction in the past? Attend a support group meeting today? Support a loved one who is struggling with her or his addiction? Pat yourself on the back!
Practice mindfulness. Find a place that calms you. Be present in the moment. Focus on staying sober one day at a time. Challenge yourself to not worry about tomorrow. If your mind begins to wander and fret, come back to the present and refocus.
Make a list of the things that bring you gratitude. The quickest cure to get you out of the holiday blues is by counting your blessings and be grateful for what you have every morning and every sober holiday.
We can help
If you or a loved one is suffering from an addiction, the staff at The Blackberry Center is here to help. Our addiction treatment programs are designed to empower you to turn your life around today.
Our substance abuse-only treatment programs include detox, residential and partial hospitalization program.  We have on-site rehab programs that focus on a comprehensive recovery approach. They address your physical, mental and spiritual needs for optimal wellness. Your needs are unique. We treat you as such.
Our substance abuse treatment options address a range of issues, including alcohol addiction, drug addiction and prescription drug addiction.
Reach out for help today 
You may be struggling with long-term drug addiction. Or you may be fighting strong temptations to abuse drugs or alcohol. We can meet you where you are in your fight for sobriety.
We welcome you to our treatment center. From support groups to individual therapy treatment options, we are here to fight the battle with you.
Reach out to us online today. You can also call us at 888-512-9802.